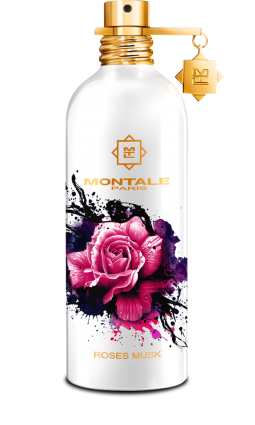 Roses Musk Limited
Roses Musk, a unique flask for a timeless elixir.

Let us begin by pointing out that - Roses Musk, Limited Edition - retains the scent of its predecessor. This new fragrance relies, above all, on its visual aesthetic to surprise you. If you still haven't succumbed to it, its name sounds simple, but it says it all. Roses. Musk. Exquisite roses, in full bloom. Soft musk, to caress the senses. A subtle blend that creates an absolutely divine and surprisingly airy rose fragrance.

The new Roses Musk flask seems familiar to us, while at the same time it takes on an entirely new look.
It is as if the rose escaped from its bottle to finally express itself fully: a very beautiful tribute to this exceptional raw material, the emblematic of the Maison Montale.
Warning: the lists of ingredients used in the composition of Montale Parfums Paris products are regularly updated. Before using a Montale product, please read the list of ingredients on its packaging to ensure that the ingredients are suitable for your personal use.
Discover
other products
of the same universe